Jewelry Appraisals
GIA Graduate Gemologist • Insurance Appraisals • Estate Appraisals • Insurance Documentation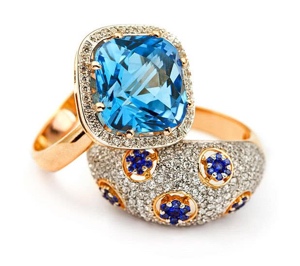 For Individuals, Banks, Estates– recognized by all major insurance companies.
Over more than six decades, Martin Jewelers continuing reappointment to membership in the select American Gem Society, with on-premises AGS Certified Gem Lab, attests to the firm's unblemished reputation for integrity and expertise.
Reflecting the highest certifications for gemological expertise, firm owner Ellen Ramer holds the title of Certified Gemologist Appraiser, often called the PhD of the gem industry, and fine jewelry manager Jeff Robbins holds the title of Registered Jeweler.
With the aid of certified instrumentation and expert gemologists, appraisals from Martin Jewelers describe each item in specific, internationally recognized terms. These note gem weights, measurements and qualities plus precious metals in exact scientific language that allow for refiguring of replacement value providing the information you need as markets escalate.
Expertise also allows for noting special nuances of workmanship especially important in evaluating period and antique jewelry.
There are many types of Appraisals, below is a list of the most common types.
Collateral
A collateral appraisal is rendered for a party wishing to use the jewelry as security in obtaining a loan, or for a similar business transaction. In most cases the value should be based on the cash liquidation market. The reason? The individual, firm or bank that receives the items as collateral will expect to realize the dollar amounts you have shown in the appraisal within a relatively short period of time. Your appraisal should therefore consider only markets to which the lender has ready access for liquidation.
Customs Evaluation
U.S. Customs officials may ask for proof that an item of jewelry was not purchased in a foreign country from which an individual has just returned. A fully detailed description and valuation are not needed to prevent this occurrence. A document with a photo and a brief description should suffice. If any serial numbers appear on any of the jewelry, they should be noted, particularly on watches.
Divorce
An appraisal for a divorce settlement is based upon state law, which may or may not require fair market value. In order to prepare yourself for such an assignment, acquaint yourself with what is required in your own jurisdiction and surrounding states. Community property states generally dictate the use of fair market value, but there are exceptions.
Insurance
This type of appraisal should provide ample information that will ensure a replacement of equal utility, kind, quality, and value. A definitive report will assist the insurance company and/or replacement agency in providing a replacement of the item comparable to that which was lost.
When obtaining a replacement one should ask for an appraisal, or at least a document from the replacement source describing in detail what has been provided as a replacement, including the grades, weights and quality of the stones, gem materials and mounting. This document is a critical safeguard to support any adjustments one may request.
Estate
An estate appraisal is rendered for federal tax purposes and should be based on fair market value. Do not confuse estate tax with inheritance tax. When an appraisal is required to determine the tax liability for the estate of a deceased person, it is called federal estate tax. An inheritance tax is what the heir(s) of the estate will be required to pay, based upon the value of their inheritance.
The fair market value must be of the date of death or the valuation date which is six months after the date of death. The reasoning behind the optional valuation date is to allow for abnormal market conditions. If for some reason one or more items had to be sold during the time of death and the alternate date, the valuation date for the estate for all of the items would be on the date of the first sale.
---
The American Gem Society
The American Gem Society (AGS) was founded in 1934 by a small group of leading jewelers. Their goal was to create an organization that could help protect the jewelry-buying public from fraud and false advertising. Today, we're proud to say their vision has become a reality.
Approximately 3,400 jewelers, retailers, suppliers, individual titleholders and affiliates have joined the American Gem Society and have dedicated themselves to consumer protection, ethical business practices, and development and maintenance of superior gemological skills and knowledge.
Only one in twenty jewelers have met the exacting requirements necessary for membership. To join the AGS, every member must go through a peer-reviewed application process followed by an annual recertification exam. This process ensures that every AGS member you meet is at the top of their game, and more importantly, each one has pledged to protect you, the consumer.
---
Thank you for your submission. One of our experienced team members will be in touch with you shortly.
---